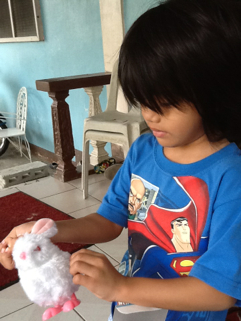 Winter received this white wind-up rabbit toy from Tita Cha last Christmas. She said she chose a bunny coz she knows we miss our bunnies who are now in animal heaven. Simple toys like this can bring lots of joy to my sons. What's good is it doesn't need batteries for it to hop around the room.
Btw, after Christmas, Winter had bad colds then had cough with matching fever. His cough was so sticky that I have to nebulize him.
His cough is better now minus the fever but still needs to finish his antibiotics.