Lots of people in the mall splurging their hard-earned money. Were one of them. We did a little shopping. Naks! But for the kids. We bought them new clothes, sandals and socks. And a new moving toy- a kick scooter.
Then I bought gifts for my parents, nephews and niece. Thanks to my blog earnings. Though I hope I had more to buy for my sisters and in-laws. Better luck next time. Heehee :D
You see we're avid fans of KFC and DQ Blizzards. But I was sad that they used peanuts instead of the usual cashew nuts for the double Dutch. And the Choco chips are fewer. I hope this is just for the Christmas season. Maybe they went out of stock. If not I'll be forever sad.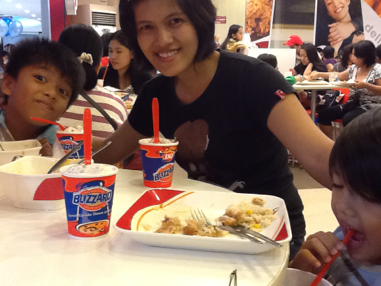 I hope the rain stops as we're going to Manila this afternoon.
Happy Sunday!