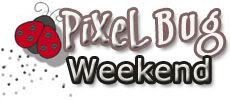 I'm so glad to have finally met Chris and Enchie last Saturday! It's my first time to meet bloggers in person. I enjoyed our small talk. And the gifts :) Samen na lang binigay lahat ni Mommy Chris hehehehe. Thanks again Chris!
I hope I could meet up with more mom bloggers too. At sana wala nang may ancestor na Indian next time hehehe :D JOKE! I understand that it's a busy holiday :)
After the meet-up, we let the kids enjoy Glorietta Park for a while. The kids were soaked up in sweat from running around.
Feeling
bahay nila ang SM
.
Join us at
Pixel Bug Weekend
!